You can buy the following products from my store directly in my studio in White Sand beach, Koh Chang or order them by sending me an email.
I ship only in Thailand!
The Bubble Beds are this year Hot sale. The Henna Cones and the Tattoo Guns are perfect if you are beginning in tattooing.
To cover or take care of your tattoo(s) I have good Tattoo Creams which are very efficient.
—
– Bubble Beds
Light and easy to carry, no tools needed to inflate it, can be use on any surface, it's even floating and extremely comfortable.
SPECIAL OFFER FOR MOTHER'S DAY!

During August 2017, only 1100 baht, including free ems delivery in Thailand!
It exists in different colours and the transport bag is supplied.
Price:
฿ 1290 if picked up at the studio!
—
– Henna Cones
Ready made henna paste supplied in cone for an easy application.
Price:
฿ 100 per cone (includes free shipping in Thailand only)
—
– Tattoo Guns
Professional tattoo guns, 2 different models. Good for beginners.
Price:
฿ 650 (includes free shipping in Thailand only)
—
– Tattoo creams
DERMACOL MAKE-UP COVER: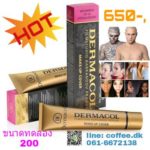 Legendary high covering make-up
BENEFITS:
Waterproof
Hypoallergenic
For all skin types
SPF 30
Preservative free
COVERAGE:Full (extreme)
The clinically tested, extreme covering Make up Cover was created as the first of its kind in Europe and one of the first in the world. The license for this foundation was eventually sold to Hollywood. It contains 50% pigments, which makes it a weapon against skin imperfections. DERMACOL MAKE-UP COVER provides PERFECT COVERAGE even in thin layers and is the perfect corrector for dark under-eye, unpleasant spots and skin blemishes. It completely covers acne, loss of pigmentation, post surgical bruising, tattoos etc. It may be used on the entire face or body for colour correction, darkening or lightening the skin tones, and ensuring ideal balance. It is widely used as a professional make-up for photo or film shoots, modelling and for festive occasions.
Volume: 30 g
Price:
฿ 650 (includes free shipping in Thailand only)
VAMPIRE TATTOO LOTION: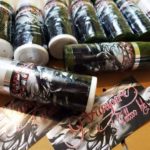 Take care of your old and new tattoos with this lotion.
Wash your tattoo with water or water and soap.
Dry the tattoo with a soft cloth and apply the Vampire Tattoo Lotion which will help it to heal, reduce swelling, stiffness, burning and help to moisturise the tattoo.
Approximately 2-4 days after apply consistently the lotion if the tattoo starts to itch. Do not puncture or scratch it!
Continue with the lotion to emphasise the colours of the tattoo.
After the tattoo has healed. Avoid direct sunlight for long periods of about two weeks. Use the lotion if you expose your tattoo to the sun.
Price:
฿ 150 (includes free shipping in Thailand only)